A rapidly expanding, hydrophobic foam designed for life-threatening trauma
Trauma is a leading cause of death in the United States for those under age 40. Due to motor vehicle accidents, gunshots, and falls, mortality for trauma patients increases for every minute that passes without bleeding control. Studies show that as many as 50% of deaths from abdominal trauma are preventable in both civilian and battlefield settings.
ResQFoam consists of two liquids injected into the abdomen using a hand-operated delivery system. When combined, these liquids create a hydrophobic foam that rapidly expands throughout the abdomen to control hemorrhage. This foam is designed to allow the patient time to reach potentially life-saving surgery, where the solidified foam is removed and the underlying injury repaired.
The efficacy and safety of ResQFoam have been studied extensively in preclinical models. It has been designated a breakthrough device by the FDA.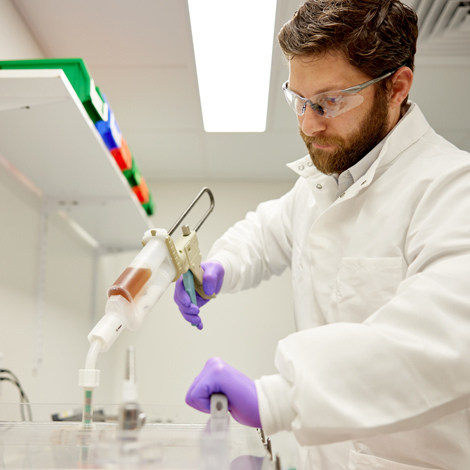 "In the history of medicine, the only way to stop internal bleeding has been through surgery. With noncompressible abdominal hemorrhage following trauma, you can't put pressure on the bleeding like you can with other body parts. This foam temporarily stops the bleeding, allowing critical time for the patient to make it to the operating room for surgery."
David King, MD, Trauma Surgeon, Massachusetts General Hospital, and a Colonel in the US Army
ResQFoam was born out of DARPA's Wound Stasis System program that sought a technology to address abdominal trauma on the battlefield. To develop ResQFoam and understand critical material properties, we systematically evaluated 1300 foams. We considered factors such as safe foam expansion, optimized parameters including expansion, reaction speed, and miscibility with blood, and developed user-friendly delivery systems that could be used in austere environments.