An injectable, shear-thinning biomaterial that enables deep neurovascular occlusion
Patients undergoing surgical resection of hypervascular brain tumors are at risk of significant blood loss, making surgery time-consuming and technically difficult. Embolization is an increasingly used minimally-invasive technique in neurovascular interventions to block blood flow to target vessels. Pre-operative tumor embolization is reported to improve patient outcomes; however, there remains a need for a next-generation material that provides vessel occlusion and deep penetration into the vessel bed.
NeoCast is a solvent-free, shear-thinning biomaterial developed using an iterative cycle of extensive bench characterization and preclinical studies to understand the properties required for optimal performance. Its shear-thinning property enables deep penetration of target vessels while minimizing the risk of non-target embolization. Within minutes, the biomaterial cures into an elastomeric solid providing a complete and durable occlusion.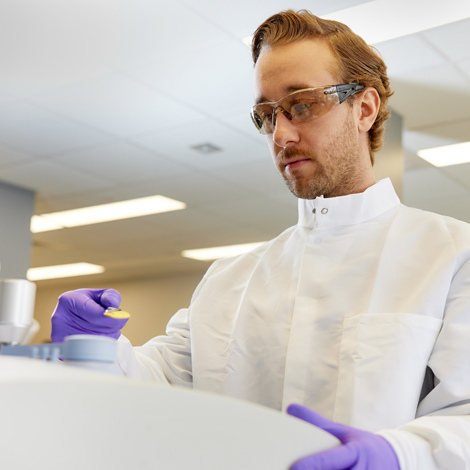 "Arsenal's embolic material is uniquely differentiated in its properties; it provides deep vessel casting. These are ideal for applications such as pre-surgical embolization of tumors and potentially other conditions where distal penetration is needed."
David Fiorella, MD, PhD, Neurointerventional Radiologist, Stony Brook University
Although we are currently focusing our investigation on brain tumors, NeoCast's promising characteristics is expected to have utility across additional neurovascular applications where deep vessel penetration is desired – including treatment of chronic subdural hematomas and hypervascular spinal tumors.
Watch demonstration of Arsenal Medical's distal penetrating biomaterial.
devices are investigational use only